Yeh Beete Din | Purani Jeans | Munna Dhiman, Ram Sampath
Wo masti ki baahon mein beete hue din
Awara raahon mein beete hue din
Na bhulenge, na bhulenge
Yeh beete din, ye beete dinBefikri jebon mein bhare hue din
Meethi khumaari se chadhe hue din
Na bhulenge, na bhulenge
Yeh beete din, ye beete din
Zara se lamhon mein kahan gaye yeh din
Hamein pata hi na chala..
Khushi ke saare pal badi hi tezi se
Kyun beet jaate hain bhala..
Dil kahe yeh samaa jaaye na, jaaye na
Jeene ke waadon se bhare hue din
Unche iraadon se bhare hue din
Na bhulenge, na bhulenge
Ye beete din, yeh beete din
I wish this stage would last
They always go tu fast
Somethings you wish would stay the same
Some magic that we share
I feel that in the air
Why do you have to go away..hey..hey..
Khushi hai aankhon mein
Zara sa paani bhi
Hai jazbaati yeh samaa…
Yaaron ko pyaaron ko
Alvida kehna aasan hota hai kahan?
Dil kahe yeh samaa jaaye na, jaaye na
Roz pukaarenge beete hue din
Aawaazein maarenge beete hue din
Na bhulenge, na bhulenge
Ye beete din, yeh beete din.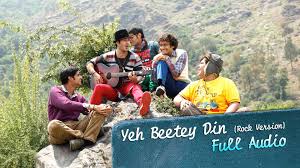 Comments
comments!