Entry To Delhi | Mumbai Delhi Mumbai | Amandeep Singh Jolly
Oh teri behn
Oh teri teri.. DilliEntry to dilli
Dilli..
O tingling oye teri
Entry to dilli
Dilli..
Oye velcomeHo desi ya angrez yaaron
Sabko iska craze sabki
Aankhon mei bas jaayegi
Haan aankhon mei bas jaaye
Aankhon aankhon mei bas jaayegiOh teri..
Dilli..
Entry to dilli
Dilli..
Entry to dilliHo kisi kaam de laud nhi
Hum sehjaade aapan hei
Madmast hei dilli manrang hei dilli
Oye..dil phenk hei dilli
Dil jaan hei dilli
Aaye haaye..
Sapno se bhari hei
Haan..apno se kharri hei
Seene vich rendi
Saddi shaan hei dilli..oye
Udta udta aeroplane ho gaya
Ho gaya ji land dekho
Dil waalon ki dilli
Dil waalon ki dilli
Haan ji, dil waalon ki dilli
Vekho jaaye hoshon chei
Oh teri..
Dilli
Entry to dilli
Dilli..
Entry to dilli oye..
O teri behn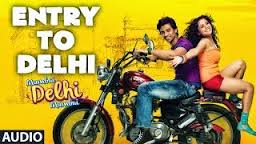 Comments
comments!